The Montreal Canadiens would need steady goaltending to perform well this season, and they've gotten it from both Carey Price and Antti Niemi.
What did the Montreal Canadiens need to do to change the scope on their team from last season? Play hard, play fast, score more, and stop the puck. Those four things sum up what the Habs didn't do and what led them to lose more often than they won. Stopping the puck fell more at the hands of Carey Price though than Antti Niemi or Charlie Lindgren (in the event that he was up with the team).
It's been beaten to death, but the 31-year-old didn't play his best last year and has looked like his old self early on. Price has three games under his belt so far and has given the Montreal Canadiens an opportunity to win in each of them despite the discrepancy in his stats.
He finished the season opener with a .885 Sv% (save percentage) while putting up a .955 and .897 against the Pittsburgh Penguins and Los Angeles Kings respectively. But goaltending has fallen at the hands of Niemi these last two games. That hasn't looked to be a problem whatsoever as the Habs have won both matches where he started giving them another goaltender to have confidence in.
More from A Winning Habit
Niemi was Montreal's best goaltender (stats-wise) after having a less than ideal start to last season with the Penguins and Florida Panthers. His play and determination earned him a one-year deal, and if he continues to perform, he may get another one.
The 35-year-old has put up matching numbers in these last two games stopping 25 of 28 shots for a .893 Sv%. Niemi is making some big stops for the Montreal Canadiens including a stone wall on Sidney Crosby last Saturday night. However, he hasn't been perfect. Teams have caught the veteran moving, and the Red Wings used this tactic the most along the crease.
But Niemi's given the Montreal Canadiens four out of a possible four points. Any team will take that from a backup.
There have been a good deal of injuries and absences on the backend in the NHL. The Kings lost Jonathan Quick, Pittsburgh lost Matt Murray, and Roberto Luongo is out for the Florida Panthers. All three, more so for Florida and LA, have felt the burden of not having their number one playing. Montreal, on the other hand, is getting steady performances from Niemi.
When you have a goaltending tandem that gives you an opportunity every single night, there's no telling how the rest of the season can shape up to be. The Montreal Canadiens play the St. Louis Blues on Wednesday, and if Niemi ends up being the guy again, there shouldn't be any panic.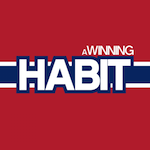 Want your voice heard? Join the A Winning Habit team!
The team is currently third in the Atlantic Division with seven points on the year. Tampa Bay and Florida are behind in terms of games played, but getting these wins early on is a good way for Montreal to create some separation. Additionally, if someone told you the Habs would be in a top three spot after the first five games, wouldn't you take it?