Xavier Ouellet is the latest Montreal Canadiens player to find himself on the waiver wire so far this season making him available to the rest of the league.
There is now a new chapter in the Montreal Canadiens roster crunch novel. It started with Jacob de La Rose who the Habs lost to the Detroit Red Wings. Then it moved on to the likes of Karl Alzner, and Nikita Scherbak and management went for a split there in terms of clearance to the minors. And now, after looking at the Habs as a caveat to start the next phase of his career, Xavier Ouellet is in the same position.
Ouellet was originally part of the Red Wings organization but was bought out of the final year of his contract. Ties to the Montreal Canadiens via Dominique Ducharme and Joël Bouchard made the decision to come here an easy one, and it was beginning to look like he was getting closer to reaching his goal.
He played well during training camp and preseason for the Habs making use of his skating awareness to his advantage. Ouellet didn't slow down once the real games started as he saw mostly bottom pair time with Jordie Benn, but again, he looked to be a steady depth option for the team.
That was until others surfaced and capatilized on their opportunities. Mike Reilly has shown signs of improvement all year, Shea Weber's back and looks as good as ever, and recent call-up Brett Kulak is so far looking like a nice partner for him.
With Noah Juulsen returning to the Habs soon, another straw had to break, and this one had Ouellet's name all over it.
It's tough to gauge or predict how this is going to go. Alzner was an easy clear given the magnitude of his contract whereas Scherbak was an easy pick up with his age, draft position, and potential. Ouellet is only 25 and is on a very affordable deal that carries only $700,000 cap hit.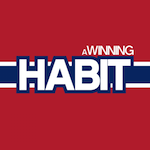 Want your voice heard? Join the A Winning Habit team!
A team in need for a boost or more mobility on the back end who is cap strung could easily make the claim on him. If not, Ouellet will be another defenceman with the Laval Rocket waiting for an opportunity to play for the Montreal Canadiens.