After trying to find a way back to the NHL through the Montreal Canadiens, Simon Desprès has rejected the offer to play in the AHL with the Laval Rocket.
We have an answer to the short Simon Desprès saga with the Montreal Canadiens.
The 27-year-old looked to the Habs as a caveat to get him back to the NHL after injuries during his time with the Anaheim took him out of the league momentarily. Desprès built some confidence and changed his lifestyle habits while playing in the KHL for HC Slovan Bratislava where he put up four (4) goals and seven (7) assists in 44 games.
He went on to sign a professional tryout with the Habs and stated that he wouldn't mind taking an AHL contract after all was said and done if it would further his progression to being back at the show. Desprès looked better as training camp progressed, but not enough to blow away any members of the coaching staff. When the final roster needed to be laid out, his name wasn't within reach and instead management offered him an option of playing with the Laval Rocket.
More from A Winning Habit
However, instead of taking the deal as he hinted at during the summer, he and his camp took time to think it over. The practical reason for only the AHL offer from the Habs could've easily been with their contract total at the time. Marc Bergevin managed to free up a spot after sending Rinat Valiev and Matt Taormina to Calgary but filled it up again after signing 2017 third-round pick Cale Fleury to a three-year entry-level deal.
But with both Tomas Plekanec and Karl Alzner being scratched so far, it's obvious Claude Julien isn't taking this team or this season lightly. Desprès would likely be in the minors anyway.
Thanks to Renaud Lavoie of TVA Sports his decision is now public knowledge.
Desprès turned the offer down to play for his hometown team in Laval and will consider other options. Seeing as how that news came out Wednesday evening and there hasn't been any news of him signing in North America, those other options may be overseas. But it's not fair to judge yet.
What I can say is that it's tough to understand the thought process here. Desprès left the NHL on a sombre note. His play in the KHL was average as was his performance during training camp. It wouldn't have been a direct flight path to where he wanted to be, but starting out in the AHL and continuing to grow as a player may have ended up doing wonders for him.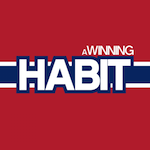 Want your voice heard? Join the A Winning Habit team!
Taking this offer would've been a good decision in my opinion, but it's his life and his choice. Who knows where the future takes Despès and hopefully it gets him to where he wants to be.