Montreal Canadiens general manager Marc Bergevin refused to include Ryan Poehling in a deal for Ryan O'Reilly which still remains to be a good decision.
It would be hard to argue that Ryan O'Reilly isn't one of the top 30 centers in the National Hockey League. It would be even harder to argue that he wouldn't slot immediately slot into the Montreal Canadiens number one center role if Marc Bergevin managed to pull off one of the many trade scenarios that saw him join the team.
Arpon Basu and Marc Antoine Godin of The Athletic did a fantastic story (subscription required) that included Canadiens GM Bergevin opening up about trade negotiations with Buffalo Sabres GM Jason Botterill for former Sabres center Ryan O'Reilly. According to the article, Botterill wanted a minimum of Ryan Poehling and a second round selection for the services of O'Reilly.
If you look at the actual return the Sabres got for O'Reilly – Patrik Berglund, Vladimir Sobotka and Tage Thompson, 2019 first and 2021 second – you could argue that the Canadiens would have had to add a couple more pieces even if Poehling is more valuable than anything St Louis gave up.
Bergevin hasn't been afraid to sacrifice age for youth in the past, but this time felt a little different. The Habs finally seem to be headed in the right direction. And even if O'Reilly is only 27, it's reassuring that Bergevin has his eye on the future, and not just a present stop gap.
More from A Winning Habit
The common consensus might lie with the idea that Poehling may never be as good as O'Reilly. That very well could be true. The odds that a late first-round pick becomes a number one center are fairly unlikely, but Poehling does have a unique skill set that will certainly benefit the Canadiens.
There have been question marks about Poehling's foot speed and those exact same questions were raised about Jesperi Kotkaniemi, which were clearly overblown. The 2017 first-round pick's hockey IQ, much like Kotkaniemi's, separates him from others and makes his foot speed less of an issue. When you're positionally sound, a lot of those smaller details become less significant, and that's exactly the case with Poehling.
In terms of value, this type of trade would have been pretty spot on from both perspectives, and a lot of people may even say the Habs would have come out on top. A rebuilding team is better off keeping their young assets and letting them develop. Even if the trade would have been a win in the short term, Bergevin made the smart move and stuck with the process.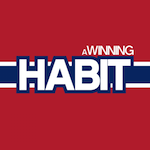 Want your voice heard? Join the A Winning Habit team!
The Montreal Canadiens were in no place to be trading a prized prospect for an established player, even if he could have immediately played an impact on the current roster.