The Montreal Canadiens have nowhere to go but up, headlined by Jesperi Kotkaniemi, the club has limited expectations for 2018-2019, and that's a good thing.
You would be hard pressed to go through the game tape from last season and find clips of the Montreal Canadiens working as hard and efficiently as they hard did against the Toronto Maple Leafs on Wednesday.
It was only one game, and it might be difficult to match for 82 games, but the effort level from the Montreal Canadiens was certainly one to be encouraged by after a dismal season.
It became pretty clear before the season started that the Canadiens would struggle to put the puck in the net. Montreal traded Max Pacioretty and Alex Galchneyuk away this summer, and those were two of the clubs primary sources for goals.
After these deals, it became evident that the team was trying to retool on the fly while acquiring draft picks and young assets. Max Domi made an immediate impact, and it was difficult to argue that he wasn't the best forward on the ice in Wednesday's opening act.
The one thing the Habs did have going for them headed into this season was no expectations. In previous seasons, expectations were usually high to at least qualify for the post-season because of a more veteran-filled lineup. That wasn't even close to the case this year after a traumatic year and an off-season centred around getting younger. It started with Jesperi Kotkaniemi at the 2018 draft, and it would be difficult to find someone who isn't high on Josh Brook, the club's second-round pick in 2017.
Noah Juulsen and Mike Reilly have impressed as a pairing, while Victor Mete has fit in nicely on the with Jeff Petry. It was a bit of a shock to see Karl Alzner as a healthy scratch for opening night, but it's nice to see that Claude Julien is awarding his spots on merit, and not contract length. It's clear that the team's biggest need has shifted from center ice to trying to find a top pairing, left-shot defenceman to play alongside Shea Weber. One thing that Marc Bergevin and I definitely see eye-to-eye on, you can never have too many defenceman.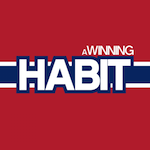 Want your voice heard? Join the A Winning Habit team!
The 2018-2019 version of the Montreal Canadiens is going to be based entirely on speed and effort level. If game one was any indication, Canadiens fans might not be so miserable this season after all, even if the club does end up near the bottom of the conference.