The Montreal Canadiens take the scissors out again on their training camp roster sending Nick Suzuki back to the OHL and releasing Joel War from his PTO.
Claude Julien said after Monday night's game that subtractions from the training camp roster were coming, and he didn't disappoint. However, this round of cuts from the Montreal Canadiens wasn't as grand as the first. The number of players being sent elsewhere is only four including the top prize from the Max Pacioretty trade in Nick Suzuki.
Suzuki played in his third preseason game against the Toronto Maple Leafs seeing 15:35 in ice time including 3:33 on the powerplay. There are clear signs of talent and skill from the young prospect and his awareness all hint at him being defensively capable enough to play the position one day. Going back for one more year of junior with the Owen Sound Attack could be frustrating, but it could also make Suzuki an even better player.
Think back to Mark Scheifele who looked ready in the two Winnipeg Jets training camps ahead of his NHL debut. But Jets management continued to send him back to play for the Barrie Colts, and he returned each time better. The Montreal Canadiens are doing the right thing in being patient with the 2017 first-round pick, and it'll be up to Suzuki to rise to the challenge.
More from A Winning Habit
Also involved in the morning cuts were the two new European defencemen Michal Moravcik and David Sklenicka as well as Joel Ward who was released from his PTO.
It'll be interesting to see how Moravcik and Sklenicka perform with the Laval Rocket seeing as they looked solid for portions of the preseason. Their skating and mobility along the blueline will be a boost for the AHL club who should play with a lot of speed given the fresh crop of forwards at Joël Bouchard's disposal. But their European Assignment Clause is still in effect which perhaps could see one or both of them back in the NHL at some point.
Ward did nothing wrong. He's a victim of the forward depth the Montreal Canadiens currently have, and it would've taken a massive performance in his short time with the team to get a contract. Especially with the Habs sitting at 48 out of a maximum 50 on the books.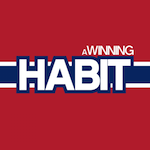 Want your voice heard? Join the A Winning Habit team!
There are only two more games left in the preseason, and we can expect further cuts to be made. But the upcoming ones will be more impactful as the regular season gets close to starting up.