The Montreal Canadiens chose to place Michael McCarron on waivers to play for the Laval Rocket, but it'll be tough for him to stand out there as well.
Unfortunately, nothing was different for Michael McCarron. He attended his fifth training camp as a part of the Montreal Canadiens organization and each ended in a similar way. McCarron survived the first and second round of cuts, but couldn't escape the waiver wire.
If all goes well and McCarron clears waivers, he'll make his way to the AHL where the Laval Rocket are on a mission to improve from their performance the season before.
But again, that's nothing new to the 23-year-old. McCarron has spent nearly 68% of his career in the professional realm of hockey in the AHL between the St Johns Ice Caps and the Laval Rocket. The only reassuring thing of these 'demotions' was the idea that he would be a key contributor/important piece on the team.
In season's past, McCarron has been used in a top-six role including time on the power play and penalty kill. It's allowed him to play with other good players such as Nikita Scherbak and Charles Hudon and improve. However, he finds himself leaving the Montreal Canadiens wanting more. Claude Julien's comment on McCarron being sent down sums it up fairly well.
There would be nothing wrong with this if the year was 2014. McCarron is on his last legs within the organization, and although he will be a restricted free agent at the end of the season, it'll be tough to see Marc Bergevin take massive lengths to keep him around if another year goes by without any significant progress.
But everyone is fine here, right? McCarron goes to Laval, is a key piece in the system, impresses enough to earn a late-season call-up and it all works out. Well, not necessarily. There's a big difference between the AHL club this year and of year's past.
The Montreal Canadiens have made 'team speed' their focus which should extend to Laval as well. McCarron's skating may be good enough to get him by in the minors, but the technique from the new names could see him surpassed there as well.
Think about it. Lukas Vejdemo and Jake Evans are two of the new prospects who will be on the team and surely play centre. Vejdemo, in particular, had a really good showing at camp starting at the Rookie Tournament and continuing into the preseason.
More from A Winning Habit
Then there's Michael Chaput, who even though is still with the Habs, has looked great and will surely be a top player for Laval and Byron Froese. Daniel Audette can also play centre and may hope to get that elevated role seeing as how he's entering a big season for himself as well.
McCarron is no longer a go-to option at centre. With the way the schedule works in the AHL (i.e. three games in four nights on a constant basis), the 2013 first-round pick will get games. However, his overall impact on the team is at risk with all the new guys looking to stand out to the new coaching staff.
What McCarron does have in his favour is experience and knowledge of the field in the AHL. How far that gets him is too early to tell, but there should be a steady degree of urgency that comes from the way he performs this season.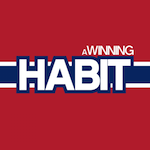 Want your voice heard? Join the A Winning Habit team!
Playtime is over. McCarron in many ways is a representation of the older regime, and if he doesn't put things together, his days as a member of the Montreal Canadiens organization could end. Whether he lets that happen or not will be another thing to take notice of this year for the Laval Rocket.