The Montreal Canadiens were hoping to see great things from Jesperi Kotkaniemi during his first NHL preseason, and the 18-year-old has delivered.
There's been a common trend during the pre-season with the Montreal Canadiens third overall pick Jesperi Kotkaniemi. It's been a trend that started during the rookie tournament, continued during training camp and has gathered even more steam during pre-season action.
This isn't some house league award at the end of a season, nor is it a 'most improvement' trophy. But the trend that's hard to ignore is Kotkaniemi's steady improvement each growing day. It's one thing for a kid to be selected in the top three of his draft class, but it's a completely different ball game once you start to identify their work ethic and skill set with your own eyes.
It was a curious pick to some, and maybe even more so to Filip Zadina, who made it crystal clear that the Senators and Habs would regret not selecting him with their picks.
Let's not get carried away. It's very evident that the tools are there for Kotkaniemi to be nothing short of a successful top-six centerman for the Montreal Canadiens, something the team has been sorely lacking on this decade. It's apparent and expected that he would need time to adjust to the smaller ice in North America. You have to be much quicker with your decision-making in an NHL sized rink. However, the smaller ice will be an asset for Kotkaniemi moving forward because he thinks the game very well.
It's very hard to believe he's 18, as players his age generally don't have the hockey IQ that he does. His three posts against the Senators and his goal vs. the Devils make it easy to get behind the high quality shot that he possesses. You come away impressed with his stick work every time Kotkaniemi hits the ice leaving the impression of wanting to see more. His stick positioning and his long reach are exceptional, and the fact that these traits are notable is great news for the Montreal Canadiens.
More from A Winning Habit
This feels very different from Alex Galchenyuk's rookie season in Montreal. Galchenyuk had more offensive tools at 18, but you can see Kotkaniemi's more complete two-way game, and it pays dividends for a player trying to break into the league.
The question that will continue to arise is also one that is difficult to answer. Does Kotkaniemi have a legitimate shot to make the Montreal Canadiens this season? Maybe an even bigger question, if he does make the team, where does he fit?
Does he push Max Domi back to the wing? The Canadiens already have him, as well as, Philip Danault, Matthew Peca and Tomas Plekanec down the middle, making it difficult to see where he would slot in. Domi would make that most logical sense to swap out, but that also means potentially giving the kid more responsibility.
The fact that Claude Julien and the Habs brass are being open-minded and not closing any doors goes to show you that they're giving him every chance to succeed. When Galchenyuk made his debut, the Montreal Canadiens were starving for skill and hoping for a bounce-back season. It appears expectations are tempered this season and fans understand that it's going to hurt before it gets better again.
At the end of the day, the Canadiens need to focus on development and letting their prospects grow this season. It's been a while since they could say they've had a solid prospect base, and it's only going to grow with another fantastic draft class upcoming with at least 10 picks to draft with.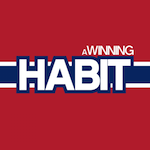 Want your voice heard? Join the A Winning Habit team!
Kotkaniemi is showing that he deserves a nine-game tryout with Montreal, and if that comes at the cost of losing a Michal McCarron to waivers, so be it. The right thing for his development will likely be to give him a taste of NHL action, make him want more of it, and send him back home to Finland to continue growing into the center the Habs brass hoped he'd be at third overall.