The Montreal Canadiens have only played 2 out of 82 games thus far however it is time to start breaking down how the first quarter of the year will play out.
The Montreal Canadiens play 10 of their first 20 games at the Bell Center which is an advantage when you take into consideration what the fans do for the team at home. When you look at the upcoming schedule, the Habs play the Buffalo Sabres twice while playing the New York Rangers, New York Islanders, Ottawa Senators, Detroit Red Wings and the Vancouver Canucks once. Those are seven very winnable games considering where each club listed is expected to finish at the end of the season.
The Canadiens are currently 1-0-1 which tallies a total of 3/4 points. It's much more than most expected when the 2018/19 season schedule was released. Seeing Montreal open up playing the Toronto Maple Leafs and the Pittsburgh Penguins on the road while both Karl Alzner and Tomas Plekanec were scratched only made the games appear to be more difficult to withstand. However, the Habs put up two solid performances and walk away with some points.
Looking at the Montreal Canadiens schedule for the first 20 matches of the year, I believe they have a legitimate chance to be in the playoff race past the quarter mark.
I predict an 8-7-2 record over the course of the next 17 games for a total of 23 points. Victories against the Red Wings, Senators, Sabres, Islanders, Rangers, Oilers and Canucks leaving the remaining matches to the losing side of things. Essentially I expect that the Canadiens will go 8-9 over the next stretch where Carey Price pushes the team to some overtime minutes against some of the more talented teams in the league.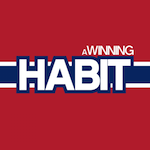 Want your voice heard? Join the A Winning Habit team!
Earning a possible 23 points for the Canadiens through 20 games isn't going to win the Presidents Trophy. However, they will likely remain competitive seeing as how four of those victories could possibly be against Atlantic Division opponents. Those games won't do much to propel them into one of those top three slots, but it will add some reassurance as far as challenging for a wild-card spot in April.