The 2019 NHL All-Star Skills competition didn't have any Montreal Canadiens on Friday night, but it went on with some incredible feats and big laughs.
It's been a while since the NHL All-Star Weekend was without any representation from the Montreal Canadiens. Usually, Carey Price would be the person to go, but the team made the conscious decision to have him miss it with a great goal in mind for the season. Previous years would see Sheldon Souray or Andrei Markov as a go-to guy. However, for the first time since 2003, there were no Habs players.
Not a big deal. Although there is a greater vision at hand, it is a little heavy not to have the Canadiens logoef down in San Jose. The All-Star Game itself isn't as enjoyable as it has been in the past unless you're the host city. But the Skills Competition has always brought some laughs and memorable moments where you get to see some of the league's best show off their personalities a bit.
There six competitions for the All-Stars to participate in:
Bridgestone NHL Fastest Skater
Gatorade NHL Puck Control
Ticketmaster NHL Save Streak
Enterprise NHL Premier Passer
SAP NHL Hardest Shot
Honda NHL Accuracy Shooting
More from A Winning Habit
The first event was a special one as Kendall Coyne Schofield of the U.S. Women's National Team took part to replace an injured Nathan MacKinnon. It's moments like these where you see how the world of hockey is changing for the better.
Connor McDavid of course participated and, as expected, destroyed the competition winning it for the third time in a row completing the run in 13.378 seconds. Jack Eichel and Matthew Barzal weren't too far behind finishing with a time of 13.582 and 13.780 seconds respectively.
Next up saw Johnny Gaudreau of the Calgary Flames compete the Puck Control in 27.045 seconds to beat out Patrick Kane who is known for that aspect of hockey. Andrei Vasilevskiy then did a good job in place of Carey Price going on an eight-save streak but Henrik Lundqvist's 12-spot was the eventual winner.
Leon Draisaitl then led all players at the NHL Premier Pass at a time of 1:09.088 while David Pastrnak's11.309 got him the win in the Accuracy Shooting.
And then there was the hardest shot competition. A competition destined for the likes of Shea Weber. But the title has moved on again and John Carlson is the winner with a shot at 102.8 mph. Not as fast as say a 108.1 mph though still hard nonetheless.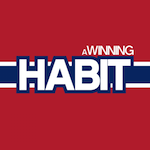 Want your voice heard? Join the A Winning Habit team!
Next is the actual game which will pit division against division leading up the return of the NHL on Tuesday. There should be some more laughs from that as well even if the Montreal Canadiens aren't there. Actually, that's not true, Youppi! did the Habs proud.