Shea Weber is ahead of schedule which could see him return to the Montreal Canadiens lineup sooner than originally thought.
It was incredible how many offseason surgeries the Montreal Canadiens had. But the most impactful was Shea Weber's.
The injury took place at the beginning of the 2017/18 season, impacted his game during the year, and eventually saw him shut down. Weber had not one, but two procedures after an issue with his knee was something else that needed to be repaired. And despite the optimism at the ailment being repaired, it would be a long time before the 33-year-old would dress for a game.
But that was five months ago. Fast forward to November and Weber took place in his first full practice with the Habs. Not only that, but he didn't need a non-contact jersey. Claude Julien mentioned afterwards that Weber still needs time yet you can't help but smile at news like that.
It got even better on Tuesday after reports came out that Weber is indeed ahead of schedule. The news came from Renaud Lavoie of TVA Sports on Twitter who said the Montreal Canadiens captain is two weeks head and could return to the lineup at the end of the month or at the beginning of December. Keep in mind Weber's initial timeline had him out until mid-December.
More from A Winning Habit
The question is when the exact date is? And that no one knows, save for Weber and the Habs training staff. What could happen is a scenario where management makes Weber overripe a bit to make sure he's at 100%.
On the other hand, Weber back on the team's blueline does wonders for the makeup of the team. Sure it'll cause some headaches when it comes to personnel decisions, but his presence alone will stabilize the team (actually come to think of it, all management would need to do is send Kenny Agostino back to the Laval Rocket so no turmoil at all). It's also another voice on the bench to calm things down when the night gets a little too chaotic.
The Montreal Canadiens have been performing well in most respects. They could use Weber on defence though seeing as how the team has had to rely on goal scoring and big saves from their goaltenders to get through games.
What will be interesting to see is how Claude Julien re-inserts him into the lineup. Does he throw Weber right back on the top pair with Jeff Petry, or does he ease the veteran into the top four? It'll be his first game in almost a year, and you have to think conditioning will be a concern to start.
That is most likely another reason why the Montreal Canadiens extend Weber's return.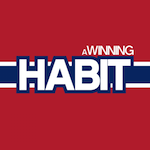 Want your voice heard? Join the A Winning Habit team!
The team has been playing with a lot of speed and at a high-tempo and Weber needs to be ready for it. But knowing the kind of player he is, there's no questioning that he will be.